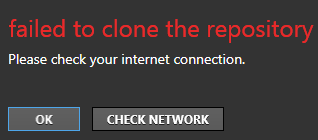 I recently installed GitHub for Windows for the first time so I could compile an open source project. While trying to clone the repository, I got this error:
failed to clone the repository 'whatever'
Please check your internet connection.
I knew my internet connection was working. A web search revealed answers that didn't apply or didn't work for me (an issue that was resolved in an earlier version, and an issue that was fixed by re-installing).
Continue Reading »